Angels Art works have been created for millennia. Even though nobody has seen an angel in the flesh — and I may be wrong about that — we have an idea of what angels are all about. This is what makes angels the most wonderful beings in the minds of famous artists, art creators of today and people who love art through the ages.
Angels are spiritual beings that look human. I guess we need them to resemble us so that we can identify with them.  In most religions, angels aren't just in the spirit but they are also benevolent spirits.  That's perhaps the reason why angels are almost always  endowed with feathery white wings. White, being the symbol of purity and goodness, the feathers are the symbol of kindness.
The angels' white wings are mostly large and they give us a sense that an angel's embrace will bring us relief from suffering.  When enveloped by them you are like a baby bird, protected.
That is why we need angels and we love angels. That is why we paint the beautiful.
The earliest angels depicted in art had no wings. These painting were said to be from the mid-third century the Cubicolo dell'Annunziazione in the Catacomb of Priscilla.  The Priscilla catacombs contain the oldest known Marian paintings, from the early third century. Mary is shown with Jesus on her lap. The catacomb also has a depiction of the Annunciation — where we see the angel.

White Angel Or Myrrhbearers On Christ's Grave Is World Famous Fresco From The Mileseva Monastery Circa 1230 AD In Serbia, It Depicts An Angel Sitting In Front Of The Tomb Of Christ (photos.com)
Wings were obviously created later, perhaps to differentiate angels from saints (who have halo) and mortal human beings. Let's look at some of the finest angel paintings in history.
[to_plus]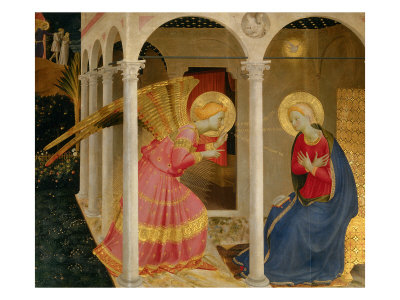 Cortona Altarpiece with the Annunciation 24×18 Giclee Print Fra Angelico
15th century angels are, like all figurative art, stylized and very much controlled by Christian Doctrine.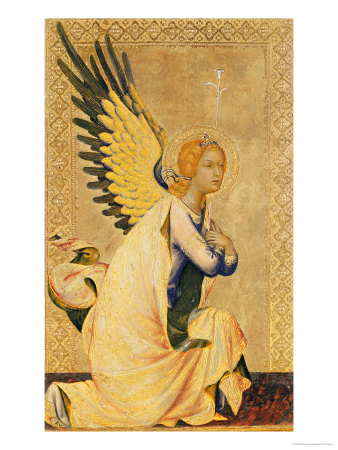 Angel Gabriel, Simone Martini
Angel Gabriel is the angel of Justice. He is mentioned in both old and new Testaments, and is the angel who appeared to Mary in the Annunciation.

Angel with Lute, Melozzo Da Forli
This is a nice angel picture, and amazingly 15th century.
16 and 17th century angels are solid, fleshed out and formal. You feel they are real people you can rest upon. The angels in these paintings tells the story, which is mainly scriptures from the bible. Unlike earlier renders, the stories are less tightly woven to known tales.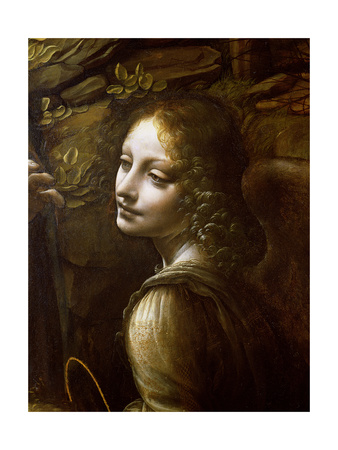 Detail of the Angel, from the Virgin of the Rocks Angel painting Leonardo Da Vinci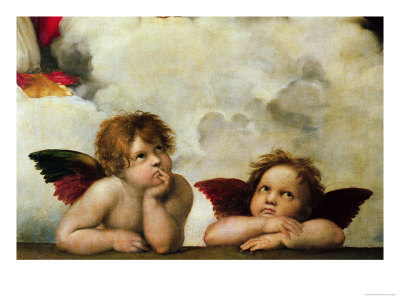 The Two Angels Raphael
Personally, this is the motive of angels I like the least. Kid angels are cherubs. In modern literature, they are cupid. I don't see the appeal. The painting, however is famous. I guess many people like it.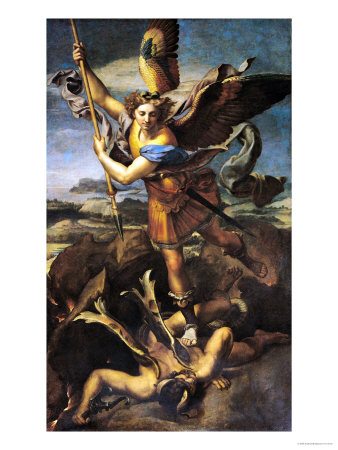 St. Michael Overwhelming the Demon, 1518 Raphael
How are angels dressed? It depends on their roles.
Michael, the archangel is a super protector, and he is dressed in a military gear. Michael is mentioned three times in the Book of Daniel of the Old Testament, is described as a "great prince who stands up for the children of your people".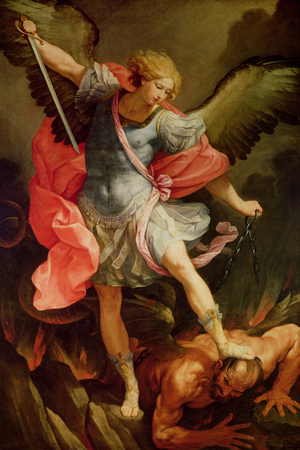 The Archangel Michael Defeating Satan 18×24 Giclee Print Guido Reni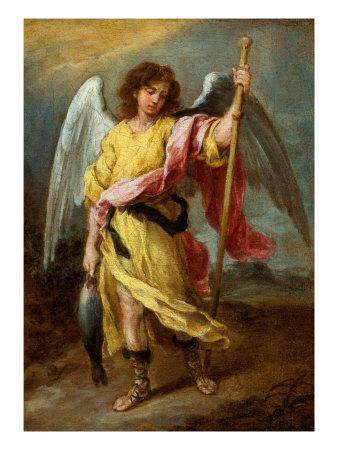 The Archangel Raphael Bartolome Esteban Murillo
Raphael the Archangel is a healer of God. He is not in warrior garb, but holding a staff. In this painting he is carrying a fish. Symbolic of the Christ.

Unknown, 19th Century Painting Of Angel (from photos.com)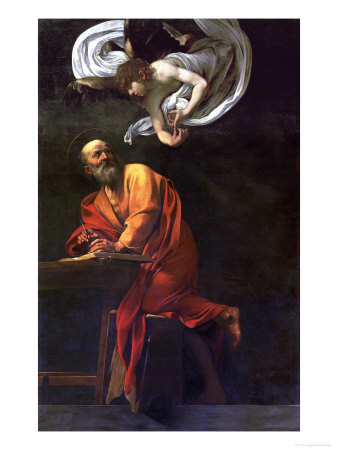 Saint Matthew Writing, Inspired by an Angel, 1600-1602 Print Caravaggio
Caravaggio is special. In the era where angels were formal and forcefully depicted, his angels were already time-beaten and challenged. This makes the man such a brilliant artist.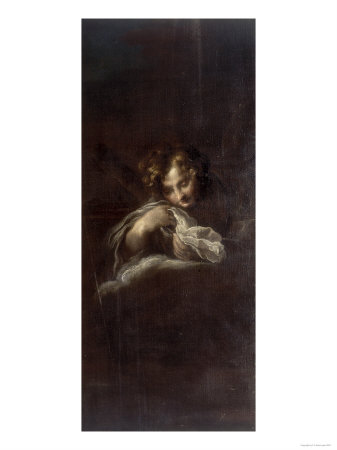 Angel, Painted by Domenico Fetti, Conserved at the Galleria Estense in Modena artist Domenico Fetti
Angels in the 18th and 19th Century are more colourful and casual.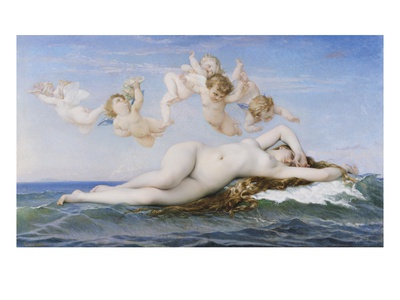 The Birth of Venus, Alexandre Cabanel
Artists beginning to mix ideas, icons of faith, religion, and moods.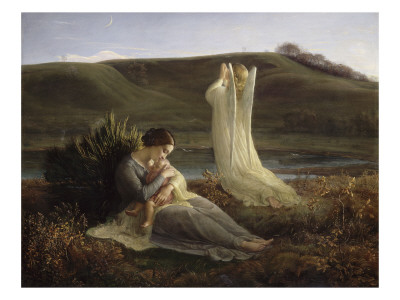 Le Poème de l'âme. L'Ange et la mere, Louis Janmot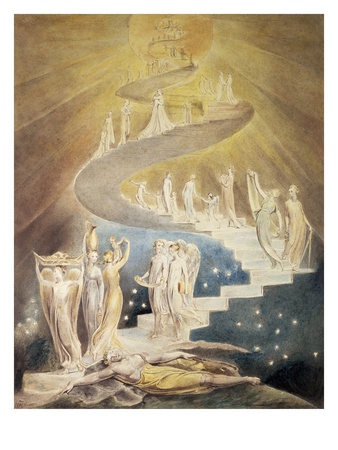 Jacob's Ladder, William Blake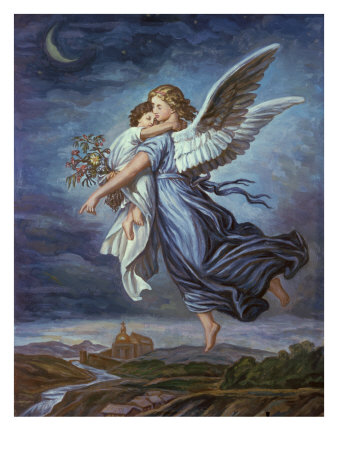 The Guardian Angel 18×24 Giclee Print Wilhelm Von Kaulbach (19th century artist)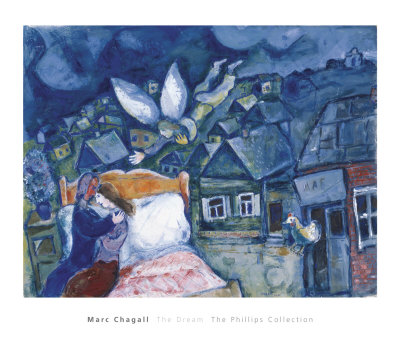 The Dream, 1939 28×24 Art Print Marc Chagall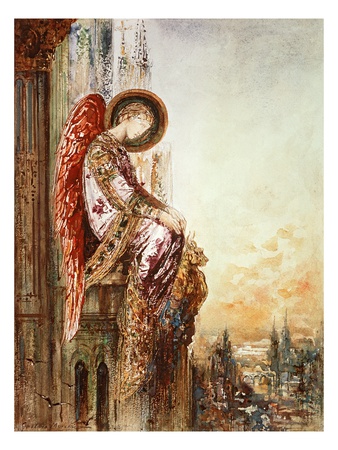 Angel Traveller 18×24 Giclee Print Gustave Moreau
So beautiful is this painting, it is a great reason to write this article.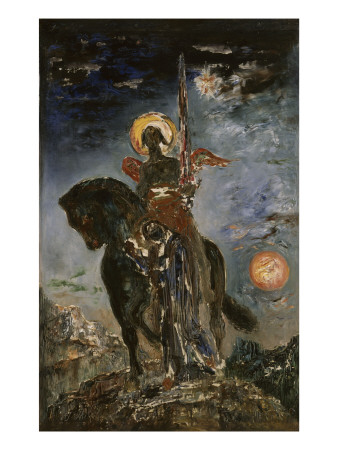 La Parque et l'Ange de la Mort, Gustave Moreau
Another painting by the same Artist.
The modern renders of angels are less reverent less religious. I think we have begun to enjoy the spirit of the angel in a more down to earth manner. The angel has left his or her divine position to be closer to human nature. Is that a good thing? Yes I think so. This makes angels more assessable and thus more attractive. That is why angel paintings and angel artworks are more popular today than ever.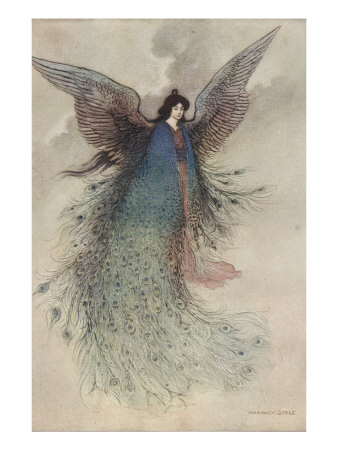 The Moon Maiden, Warwick Goble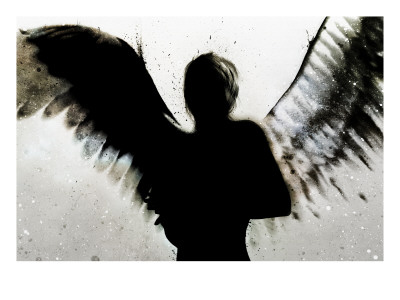 Heaven in Her Arms Giclee Print Alex Cherry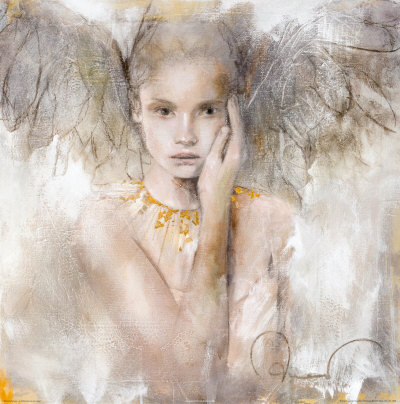 In Truth There Is Love 20×20 Art Print Elvira Amrhein
Fallen Angels. The first fallen angel to be invented is the angel Lucifer. In the human psyche, where there is good, there also as to be bad. There is seldom anything grey in between.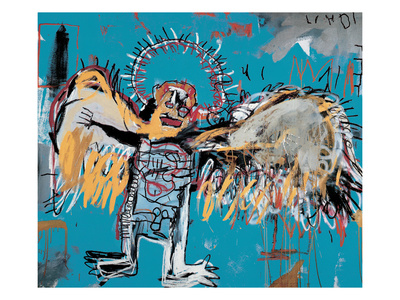 Untitled (Fallen Angel), 1981 16×12 Giclee Print angel Jean-Michel Basquiat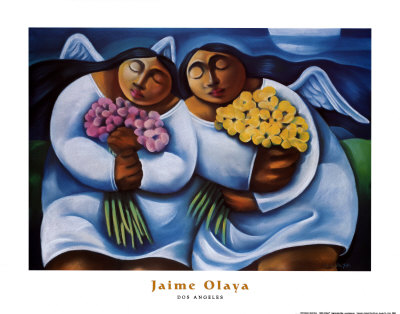 Dos Angeles 28×22 Art Print Jaime Olaya
Cross culture of today's world bring many beautiful angels never envisioned.
This is an list of as many paintings of angels images I can attach to this article. It is far from exhaustive. I will definitely try to add some more painting along the way.
You may also like to check out other popular paintings of angels on my site. Art prints of these images are available online.
[easyazon-block align="none" asin="1401907598″ locale="us"]
[easyazon-block align="none" asin="002907052X" locale="us"]
[easyazon-block align="none" asin="B004A8ZSD2″ locale="us"]
[/to_plus]